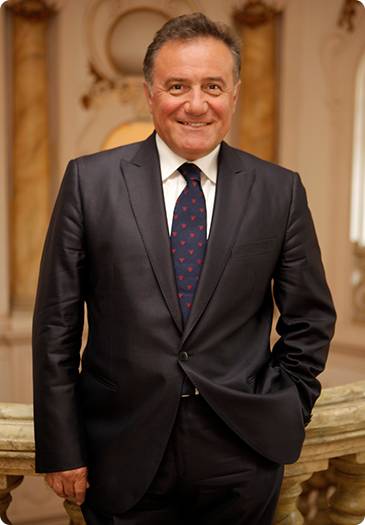 ENVER YÜCEL
Enver Yücel is the President and Founder of Bahçeşehir Uğur Educational Institutions (BUEI or BUEK in Turkish), which is the largest education group in Turkey and in Europe.
A pioneer in the field of education, Enver Yücel was born in Giresun, Turkey, in 1957, and after completing his high school education at Haydarpaşa High School, he completed his degree in the Mathematics Department of what is today Marmara University's Education Faculty.
Mr. Yücel is the founder of the BAU Global education network, which includes:
-within Turkey, Bahçeşehir University, Bahçeşehir College, Uğur Schools, and Mentora Language Schools,
-internationally, Bay Atlantic University (BAU) in Washington, D.C.; Berlin International University in Berlin; BAU International University in Batumi, Georgia; Bahçeşehir Cyprus University in the Turkish Republic of Northern Cyprus; Mentora Language Schools around the world, including the U.S., Canada, England, and Germany; and educational research and development offices in over 15 countries globally.
In 1998, he founded the Bahçeşehir Uğur Education Foundation (BUEF), which began providing educational services and scholarships for students as an official education foundation.
In 2020, the SEY Foundation (Semra and Enver Yücel Foundation) was launched in Mr. Yücel and his wife Semra's names in order to conduct social and community support projects all over Turkey.
A pioneer who has committed his entire life to the field of education, while investing and donating over $45 million annually to education and culture-related endeavors, Enver Yücel is among the top educational philanthropists globally. In 2008, he was awarded the "Outstanding Service Award" by the Grand National Assembly of Turkey.
Mr. Yücel's contributions to global education are not only appreciated in Turkey. In 2014, he was awarded the United Nations' "Contribution to Global Education" award by United Nations Secretary General Ban Ki-Moon at the UNCA Awards Ceremony in New York City. This was the first time a Turkish educator had received this prestigious award.
He received the Ministry of Economics' "Turkey's Most Influential Educational Entrepreneur" award in the services export category each year from 2016 through 2020.
In 2020, Mr. Yücel was selected as Turkey's Entrepreneur of the Year by Ernst & Young (EY).
In addition to his duties as President of BAU Global, Head of the BUEI Board of Directors and Chairman of the Board of Trustees at Bahçeşehir University, he also serves as head of Turkey's Private School Foundation (TÖDER), while also continuing his role as Founder of Haydarpaşa Education Foundation.
In the global arena, Mr. Yücel also serves as President of the World Education Pioneers Association and the Association of European Exam Preparation Centers. Additionally, he is a member of the Board of Trustees of the Dean's Council in the Steinhardt School of Culture, Education, and Human Development at New York University.
Enver Yücel has written two books, a memoir titled A Life Dedicated to Education and a volume exploring the transformation of education in the digital age, titled Education's Digital Leader.